Greetings and salutations from Spain. I know it's been a while since my last entry... so here's what I've been up to:
A couple of weeks ago I visited the the ancient Spanish city of Valladolid. Valladolid was the capital of Spain before the inception of modern Spain. The flag below may be familiar to some of you Texans. It's the flag normally associated with the Spanish occupation of our great state.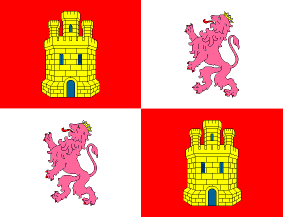 So... being that Valladolid was the capital of Spain throughout it's golden age. It's where Ferdinand and Isabella ruled from, and it's also where the great explorers like Christopher Columbus and Ponce de Leon, along with the great conquistadors like Cortez, had their homes. Below is a picture of Columbus' home which has been turned into a museum.
Below is a picture of the one of the greatest city plazas throughout all of Spain. It's called the "plaza mayor."
And last, but certainly not least, is this ancient restaurant called
La Parrilla de San Lorenzo
, this restaurant and monastery has been in existence since the 16th century. That's the 15oo's people! Although extremely pricey, when is the next time you'll be able to eat in a restaurant that's been around longer than the United States?